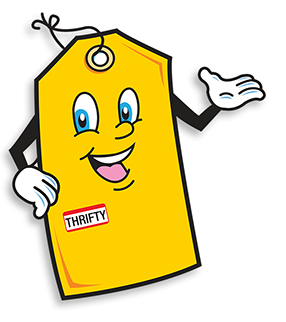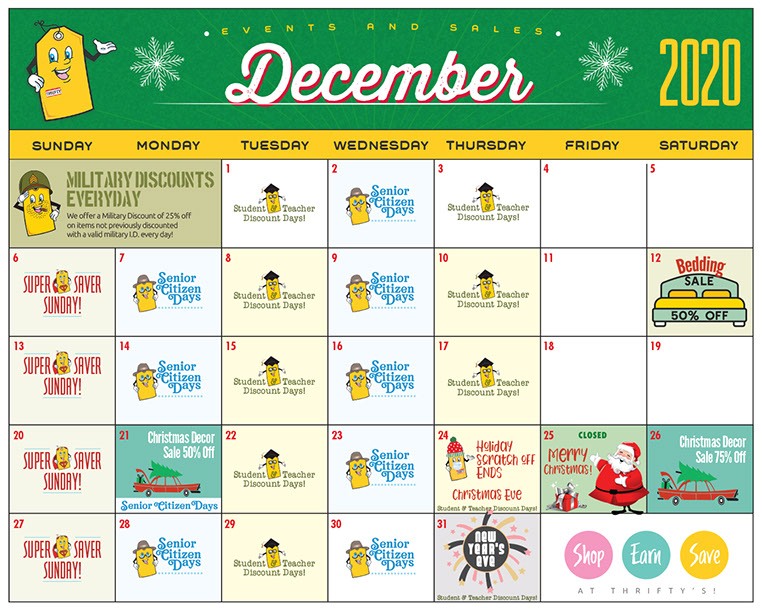 Saturday, december 12
Bedding sale, 50% OFF
monday, december 21
Christmas decor sale, 50% OFF
thursday, december 24
scratch offs end
We are running our holiday scratch off. Spend $20 an receive a scratch off for BIG savings. Cards EXPIRE December 31. Limited supply & once we run out of cards, that's it!
monday, december 26
Christmas decor sale, 75% OFF
Military Discounts everyday!
We offer a Military Discount of 25% off on items not previously discounted with a valid military I.D. every day!
Super Saver Sunday
3 Color Tags 50% OFF Every Sunday!
Senior Citizens Days!
Every Monday & Wednesday customers 55 years or older save
25% off their entire purchase on items that are not previously
discounted!
STUDENT & teacher DISCOUNT DAYs!
Every Tuesday & Thursday save 25% off your purchase of items not previously discounted when you shop at Thrifty's!
Must present valid student or educator identification.
Events and Sales at Thrifty's Thrift Stores for December 2020

Returns gladly accepted in the clothing, shoes, bins, and miscellaneous departments providing the tags/prices are still attached and accompanied by the receipt within 14 days of purchase. We are sorry but Furniture and electrical items are not eligible for return. All returns are good for exchange, or in-store credit only.