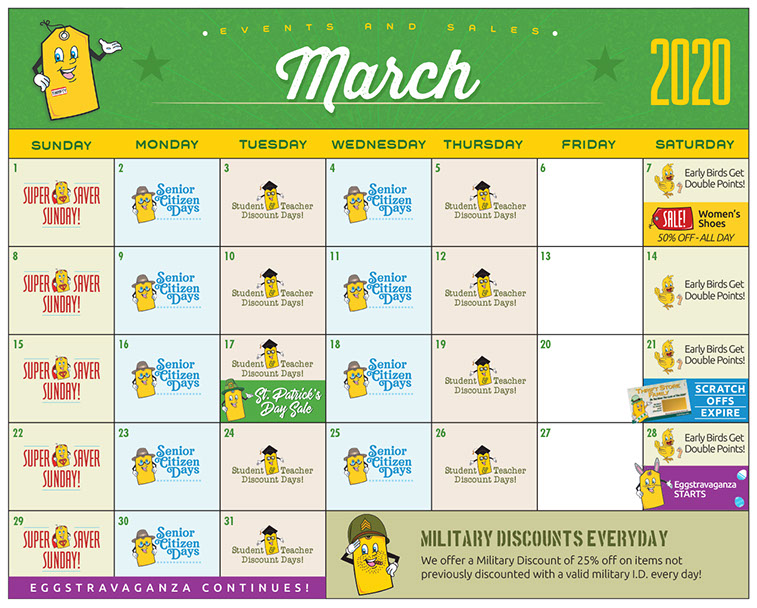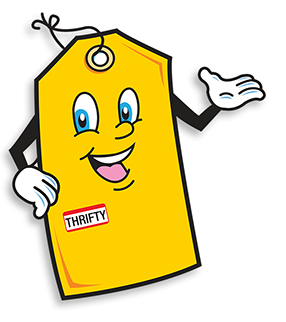 Saturday, March 7
Sale on women's shoes, 50% off all day.
Tuesday, March 17
St. Patrick's Day sale, 3 color tags 50% off & scratch off, no minimum spend.
Saturday, March 21
Scratch offs expire
Saturday, march 28
Eggstravagana begins. Each customer who spends $20 or more receives an egg. Inside of each egg is a prize ranging from $2 off to a $50 gift card.
Military Discounts everyday!
We offer a Military Discount of 25% off on items not previously discounted with a valid military I.D. every day!
Super Saver Sunday
3 Color Tags 50% OFF Every Sunday!
Senior Citizens Days!
Every Monday & Wednesday customers 55 years or older save
25% off their entire purchase on items that are not previously
discounted!
STUDENT & teacher DISCOUNT DAYs!
Every Tuesday & Thursday save 25% off your purchase of items not previously discounted when you shop at Thrifty's!
Must present valid student or educator identification.
Early Birds Get Double Points!
Every Saturday 10 a.m. to 1 p.m.!
Double the points of your purchase, when you shop with your Loyalty Card!
Events and Sales at Thrifty's Thrift Stores for March 2020



Returns gladly accepted in the clothing, shoes, bins, and miscellaneous departments providing the tags/prices are still attached and accompanied by the receipt within 14 days of purchase. We are sorry but Furniture and electrical items are not eligible for return. All returns are good for exchange, or in-store credit only.